Location Map:
Map Unavailable
June 24, 2018
8:00 am to 3:00 pm
Mooretown Sports Complex
1166 Emily Street
Mooretown,

Canada
Add to Calendar (iCal) Add to Google Calendar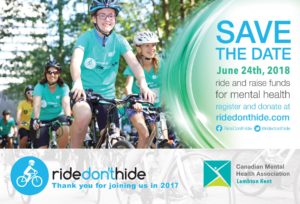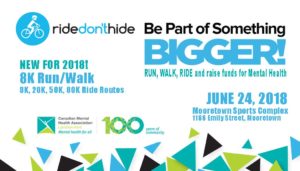 Don't let mental health stay hidden, ride in plain sight. Ride Don't Hide. Register today!
Registration for Ride Don't Hide 2018 is Open! Register for Ride Don't Hide on Sunday, June 24, 2018 to show you care and help end the stigma! Ride Don't Hide is CMHA Lambton Kent's annual fundraiser to raise funds for the Preventative Education Program, to increase awareness, reduce stigma and change behaviours and attitudes about mental illnesses in our community.
Register Early and Save! Registration includes event entry, an event shirt, awesome swag, a light breakfast, entertainment and a BBQ lunch.
Ride Routes Available include 8K, 20K, 50K and 80K. Early Bird Registration is just $35 until April 30th. $45 May 1st to June 23rd. and $50 on event day June 24th.
NEW for 2018! 8K Run/Walk!
Invite Family and Friends to Join the Movement. For more information contact: Angela Kirkland 519-337-5411 ext 3230 or akirkland@cmhalambtonkent.ca
Register Today! http://ridedonthide.com/on/ride/lambton-kent/