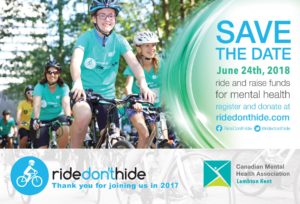 Don't let mental health stay hidden, ride in plain sight. Ride Don't Hide. Register today!
Registration for Ride Don't Hide 2018 is Open! Register for Ride Don't Hide on Sunday, June 24, 2018 to show you care and help end the stigma! Ride Don't Hide is CMHA Lambton Kent's annual fundraiser to raise funds for the Preventative Education Program, to increase awareness, reduce stigma and change behaviours and attitudes about mental illnesses in our community.
Register Early and Save! Registration includes event entry, an event shirt, awesome swag, a light breakfast, entertainment and a BBQ lunch.
Take advantage of our Holiday Special on now until January 31. Save $20 off the regular registration fee of $45! Register today for only $25!!
Invite Family and Friends to Join the Movement.
Register Today! http://ridedonthide.com/on/ride/lambton-kent/