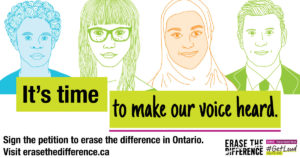 It's Mental Health Week and this year promises to have a significant impact.
As one of the more than 10,300 Ontarians who've signed our Erase the Difference petition, you've already made an important contribution to ensuring that mental health and addictions care is funded like physical health care.
For first time all three main political parties have promised, in advance of an election, massive investments for mental health and addictions care in Ontario.
It's positive that all parties recognize that only significant investments will help our front-line workers deliver timely and appropriate care for people seeking help. But we need to keep the pressure on.
Let's keep pushing to make sure the issue of mental health and addictions funding stays on the political radar. We ask that you send the petition to three friends and ask them to sign and do the same.
To help, we've created a new toolkit with social posts and graphics, and a new interactive map on our Erase the Difference website to highlight the supporters across the province.
With a provincial election one month away, now is a crucial time to demand funding parity. Help us make a difference.