Congratulations to our Winners!
Jamie Sykes is the lucky winner of this year's Collingwood Condo gift generously donated by Dan Falla. With each $250 raised, all fundraisers 18 years and older were entered in a draw to win an 8 day/7 night stay in a fully furnished 2 bedroom condo at the Georgian Manor in Collingwood, Ontario August 11-18, 2018. The draw took place July 6. Congrats Jamie!
Lambton Kent's Top Fundraisers 13 years and older won adult bikes donated by Blackwell Cycle in Sarnia and Smith Cycle & More in Chatham. Congratulations Kerry Hagan who received the bike donated by Blackwell Cycle for her fundraising efforts. Kerry raised $1850! Amy Sansom, who participated in the Rondeau Park location, won the bike donated by Smith Cycle & More. Amy raised $1355! Congrats Amy!
Congratulations William Eagleson and Jackson Sales who were the top youth fundraisers 12 years and younger. William participated in Mooretown and he raised $256! Jackson participated in Rondeau Park and he raised $420! Thank you to our CMHA Staff, Andy Menelaws, for generously donating the youth bicycles.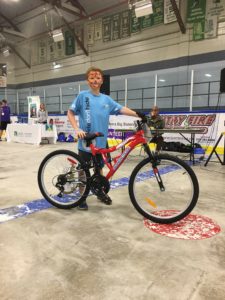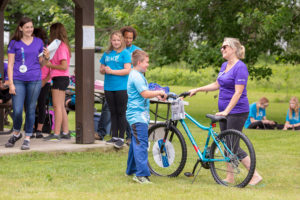 $1000 Ride Don't Hide Cycling Jersey's were awarded to Kerry Hagan, Steve Baxter who raised $1545, Amy Sansom, Cristina Terek who raised $1000 and Bill Morkin who raised $1285. Thank you and congratulations to everyone.
Congrats to our top team fundraisers in Mooretown, BG Peddlers raising $3716.36 and in Rondeau Park, team Sansom raising $1375.00!
Special Shout out to teams Hagan's Dragons and Gizmo's Gang for recruiting the largest Lambton Kent teams of 18 members per team! Way to Go!!
Check out the photos from this year's event on our Facebook page:
Ride Don't Hide Lambton Kent 2018 Rondeau